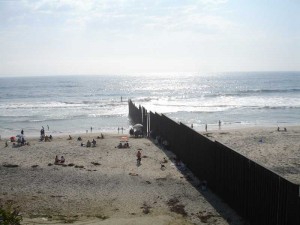 One of the best films to portray the deteriorating condition of our nation's southern border with Mexico is the aptly-named Border. Directed by Chris Burgard, an actor and producer I  had the pleasure of meeting at a film screening at the Helen Mills Theater held several years ago to benefit then-imprisoned Border Patrol agents Ignacio Ramos and Jose Compean, Border is a chilling-yet accurate-portrayal of the anarchy and criminality that reigns on American soil just across from Mexico, and the lack of will in Washington D.C. to confront this chaos in any substantive manner.
Told from the perspective of a patriotic conservative-a rare specimen in Hollywood-Border is an unabashedly straightforward defense of traditional American values that is anything but equivocal in its defense of staunch immigration enforcement and condemnation of those who allow ordinary citizens, both immigrants and native-born, to suffer in order to reify their open borders philosophy. Today however, I'm pleased to report that there is a brand-new documentary which explores the subject of illegal immigration from a completely impartial, yet wholly truthful, perspective.
They Come To America is a refreshingly honest film directed by Dennis Michael Lynch which spans the continental United States in search of answers to the questions that most Washington D.C. and state policy-makers continue to dodge. Endorsed by Michael Cutler and Roy Beck, this movie is a must-see for anyone who wants to know how illegal day laborers, expanding Mexican drug cartels and hapless politicians intersect to create the disastrous situation we're currently dealing with, but which only a courageous few are seeking to address in a constructive way.
You can read a more detailed synopsis of the film-including the director's thoughts and experiences-at the East Hampton Patch. I urge anyone who is able to watch this film to do so because it will be an edifying experience, even for those of us who are all too aware of the dangers posed by unfettered immigration and porous borders. For a list of upcoming screenings, check out the official site of They Come To America.