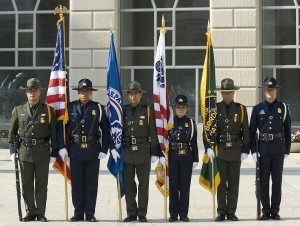 As most loyal followers of American Rattlesnake know, we are dedicated to covering any and all relevations of gross malfeasance emanating from Operation Fast and Furious and subsidiary gunwalking operations that have engulfed top officials at the BATF and Department of Justice. We have been addressing this subject since March of last year, when mainstream press organs began to tentatively acknowledge the stream of corruption and obfuscation emanating from the Department of Justice and Bureau of Alcohol, Tobacco, and Firearms, among other criminal/investigative and intelligence agencies implicated in the Fast and Furious fallout.
We have also done our best to highlight the most notorious victim of President Obama's and Eric Holder's disastrous gunwalking campaign. That  person is, of course, Border Patrol agent Brian Terry, a man who lost his life at the hands of predatory coyotes attempting to rob a group of illegal immigrants in December of last year. Agent Terry was willing to sacrifice his life in order to defend the country which he loved, yet the notion that he might one day be killed by someone wielding a gun supplied by his own federal government was undoubtedly never entertained by either he or his family during the course of his work.
That's why I'm pleased to report on a fundraiser that was held in Scottsdale, Arizona this weekend in Agent Terry's honor, which will go towards defraying the expenses of the Terry family as they attend Capitol Hill hearings into Fast and Furious. The Terry family has been not only persistent but courageous in defense of their son's memory, as well as their quest to obtain justice-and answers-from the DOJ. They even dared to call out Attorney General Eric Holder for his continued pattern of evasion, deception, and denial. The Blaze has all of the details, including a very moving interview with yet another ATF whistleblower who had the guts to expose the corruption and criminality at the heart of this idiotic gun-walking gambit. 
For those who would like to learn more about the amazing, all too short life of Brian Terry, I suggest visiting a website established in his honor, Remember Brian Terry. There you'll learn not only why this man was such an exceptional individual, but why we must do everything in our capacity as Americans to continue Brian's fight. Not only to secure this nation's neglected border, but to hold to account those high officials in this administration who aided and abetted the criminals who took Agent Terry's life. It's definitely worth a look, and I trust that American Rattlesnake readers will share the link with other concerned citizens.