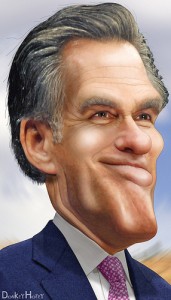 As reported by the Boston Globe, Mitt Romney is courageous enough to tell a Hispanic audience that illegal immigration is wrong, and that he'll fight to secure our borders.  His audience was savvy enough to support Romney's principled stand.
Speaking in Tampa, Florida to the Republican National Hispanic Assembly, Mr. Romney spoke against open borders and amnesty.  He lauded legal immigration as a source of strength for the country.  The largely Cuban-American audience responded in kind with hearty applauds.
Romney held his stance on immigration against the failures of the Obama administration.  As governor of Massachusetts, Romney  strengthened state troopers' authority to enforce immigration laws and vetoed granting in-state tuition rates to illegal immigrants.  The Los Angeles Times elaborated that Romney would get tough on the employers of illegals by requiring the use of the highly effective E-Verify system.
The Miami Herald  noted that an unspoken target of  Mitt Romney's speech on immigration was Governor Rick Perry.  Governor Perry is wrong on immigration, as previously exposed by American Rattlesnake.
Arizona Governor Jan Brewer proved that a principled and effective stand against illegal immigration is a winner at the polls.  Time will tell if Mitt Romney can use the issue effectively, and if he will follow through on his promises.