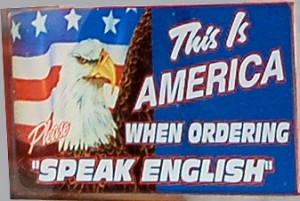 I'm very saddened to bring you news of the death of Joey Vento, the founder, owner, and operator of Geno's Steaks, a Philadelphia landmark for over four decades. Yesterday he suffered a fatal heart attack at his home in Shamong at the age of 71. 
The sign you see above was placed in Geno's in 2006 because of an increasing number of customers who were unable to communicate to Joey and his employees in English, the lingua franca of the United States, and increasingly, the world. Of course, for standing up for his principles-and supporting the seemingly common sense notion that someone living in America should be able to utter a coherent sentence in its primary language-he was vilified by those who despise the conceptual framework of this nation as a melting pot. He was subjected to an Orwellian investigation by the politically correct inquisitors at the The Philadelphia Commission on Human Relations, which would ultimately exonerate him of the  thought crime he had allegedly committed. 
That battle  exemplified the courage and determination of Mr. Vento, the grandson of Sicilian immigrants who wanted to provide a better life and more dynamic future for their own children. He truly exemplified the American dream, and was an affront to the ethos of entitlement that has so suffused contemporary American society. I never had the pleasure of meeting Joey or sampling one of his legendary cheesesteaks, but several members of New York ICE made the trip south in order to demonstrate their agreement with Geno's steadfast support for American citizenship and the English language. That devotion to country is what separated this restaurant from an ordinary, successful steak shop, and what made Joey such a remarkably distinctive personality.
For a brief but fitting tribute to Joey Vento, check out Michelle Malkin's website. American Rattlesnake sends out its thoughts and prayers to Joey's family, as well as to the people of Philadelphia who enjoyed his trademark cheesesteaks. He was one of a kind, and the legacy he bequeathed to patriotic Americans of all races, colors, and creeds will not soon be forgotten. 
Rest in Peace, Joey Vento. You will be missed.