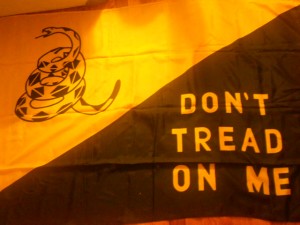 Flag designed by Thomas Dolan
This past weekend we were lucky enough to celebrate the first anniversary of American Rattlesnake with several friends and allies in New York City. And although we realize that many of this website's most steadfast followers come from the Big Apple, we also recognize the importance of those who live in other parts of the country. Whether it be the nation's capital, Washington D.C., the birthplace of our Constitution, Philadelphia, or ground zero in the war to reassert control over our borders, the great state of Arizona; we at American Rattlesnake are gratified by the continued support we've received from patriotic, concerned citizens throughout the nation. And believe it or not, we even have fans overseas, many of whom live in countries beset by the same problems of open borders policies and derelict politicians which we are confronting in the United States. 
Although we have had submissions from several different sources over the past year-I'd like to single out for thanks our own Marion Dreyfus for her thoughtful commentary-most of the writing on a day-to-day basis is done by yours truly. That's why I'm inviting this website's devoted, intelligent, resourceful readership to contribute their own stories, ideas, and suggestions to AR. This movement is a collaborative effort, requiring the skills, dedication, time and effort of millions of Americans throughout the country, which is why am asking you to give us your feedback. Issues that you'd like to see highlighted, stories you'd like to see us cover, suggestions for improving the website; these are all ways that you can help make American Rattlesnake even more efficacious in its second year of operation.
We'd also like to see stories from our readers. We have published and will publish in the future well-written, topical essays and columns written by readers, as well as important news stories highlighting issues pertaining to border security, immigration enforcement, and other subjects that we've tried to explore in a more honest, analytical manner at American Rattlesnake. One of the benefits of having a website like this is that it reaches people throughout the country, and even abroad. For those photo and video bloggers out there who have compelling footage or pictures of events that have taken place in your city or town, feel free to pass them along. One of the most remarkable aspects of the citizen activism that has characterized the Tea Party is the photo journalism individual activists have produced, some of it leading to dramatic changes in the political realm. That's something I'd like to emulate here, and with your help it will become a reality in the weeks and months ahead. 
In closing, if  you have verified news tips, suggestions, praise, critiques, or stories, feel free to share them with the editor-in-chief and/or publisher, whom you can contact here. You can read our submissions policy here. At the present moment we do not have sufficient funds to pay contributors, but the same was true of Andrew Breitbart when he began Big Hollywood. And though I hesitate to compare myself with the the creator of the multi-media Breitbart empire, I will emphasize that great endeavors often begin with small steps. If your submission is published it will be read by thousands of individuals every month, most of whom share the same concern over the direction in which this country is headed, particularly with respect to its borders, language, and culture. In the end, we share the same goals. Namely, to educate, inform and exhort the public to action that will make our communities better places in which to live.