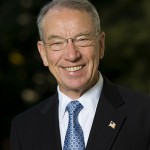 We've now learned that Kenneth Melson, the acting director of the Bureau of Alcohol, Tobacco, Firearms, and Explosives is poised to resign, in large part because of blowback from Operation Fast and Furious, which we've been covering for months. Although it's hard to determine just why he's chosen to fall on his sword at this point in time, I can't help but think that Melson is being used as a convenient scapegoat for an administration eager to avoid further questions about its role in the Gunwalker scandal. Questions that continue to be raised by Senator Charles Grassley and Congressman Darrell Issa, who've taken in the lead in investigating this matter.
The  resignation of Melson would clear the way for President Obama to appoint Andrew Traver, whose nomination has been held up since last year, as acting director. The problem is that a new, temporary appointment does nothing to address the systemic abuse of power and obstruction of Congress that has been exposed through the gunwalker congressional hearings. As disturbing as the revelations about Fast and Furious have been, it's likely that there is even more evidence of malfeasance from the executive branch, as this report from ABC News indicates.
A report released by Issa's committee "Fast and Furious" noted testimony and accounts from ATF agents where they expressed their concern. One comment revealed a sense of panic when Rep. Gabriele Giffords was shot, one ATF agent told congressional investigators, "With Ms. Giffords' shooting, there was a state of panic, like, oh, God, let's hope this is not a weapon from that case."
For a more detailed summary of how Operation Gunrunner came to light, I suggest you check out Pajamas Media, which has been indefatigable in pursuing this issue since it exploded into the headlines earlier this year and has provided us with a timeline of events. If  the Obama administration thinks that a cosmetic change at the top of the ATF will deter Congress from uncovering the facts behind Fast and Furious, then it  is sorely mistaken, as recent developments have demonstrated that the questions raised by Gunwalker are not going away.