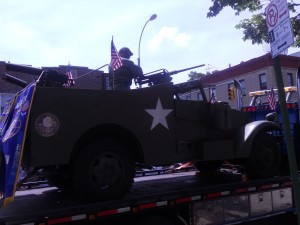 I just wanted to conclude my Memorial Day coverage with some fun pictures I snapped during the course of yesterday's parade. Some of the more interesting photographs-such as the one above-are of the military hardware and modes of transport on display during the parade.
The classic look reflected by he military vehicles was mirrored by their civilian counterparts, which included a wide array of low-riders, classic cars, and convertibles:
The building trades, machinists, and construction unions-many of whom are vehemently opposed to amnesty and the underbidding that results from unfettered immigration-comprised a large portion of the parade-goers:
And they have a sense of humor:
Finally, let me make a note about what makes this tribute to our fallen soldiers so compelling. In my opinion, it's community. The people of Bay Ridge, Bensonhurst and Dyker Heights-and throughout the great borough of Brooklyn-form a group that is willing to come together to support their own. In this case, that means the many New Yorkers who've decided to make the ultimate sacrifice for their country. I think you can see that deeply held sense of community from some of the pictures below:
In summary, despite the diffident attitude sometimes attributed to New Yorkers by critics, yesterday's commemoration of Memorial Day in Brooklyn demonstrated that as group we do care about the sacrifices made on our behalf by America's men and women in uniform, many of whom come from the Empire State.