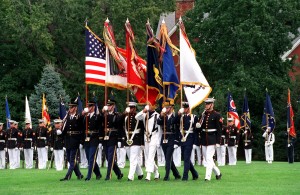 For those of you who are wondering, yes, I am going to have full May Day coverage this week, including photos and analysis. However, considering the momentous news, I thought I'd break with tradition and ask all American Rattlesnake readers to extend their gratitude to the brave men and woman of  our Armed Forces and intelligence services who've dispatched to Hell one of America's greatest enemies and one of this world's biggest cowards. 
For those of you who want to know just how amazing the individuals who serve in our military are, I suggest you check out the awe-inspiring documentary by Sebastian Junger and the late Tim Hetherington, Restrepo. I also recommend you look into contributing to those servicemen who've returned from their theater of battle less than whole by donating to the Wounded Warrior Project. I've given to them in the past, and can attest to their reputation as one of the best disabled veterans organizations in the nation. 
Today is a day for rejoicing, but remember that for some people the job of rooting out evil never ceases.