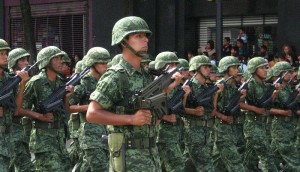 In yet another example of the brutality and indifference to human life that have come to characterize the Mexican military, we learned yesterday that three Mexican soldiers are responsible for murdering an American citizen, then planting evidence suggesting that he was in some way culpable for his own death.
Although the details are murky, you need to read the entire story for yourself in order to grasp the magnitude of this offense, as well as to understand why the Mexican military is held in such low regard by the people whom it ostensibly "protects." The fact that this same military has been repeatedly censured by independent watchdogs and investigative agencies, including an arm of the Organization of American States, is something that should concern all Americans, especially considering that American taxpayers are bankrolling this dubious institution through many different legislative instruments, including the Merida Initiative.
Is it any wonder that some people want to avoid the country altogether?