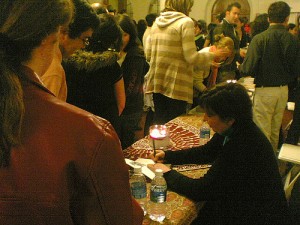 Before I write anything else, I'd like to wish all of my readers a very Merry Christmas! Though few in number, you make up for it in dedication.
Without the efforts of people such as yourselves, we wouldn't have been able to celebrate the defeat of the DREAM Act or the success of thwarting the last-ditch attempt at amnesty by this dreadful session of Congress. Toast your efforts with nice glass of brandy and some holiday cheer.
Now, I thought I'd give you all a treat by posting a link to one of my favorite contemporary Christmas tales.  The story of Firoozeh Dumas, a fiendishly clever Iranian-American writer whose family relocated to America for business purposes, but was forced to remain here once the theocratic regime of Ayatollah Khomeini seized control of Iran, is one that everyone should know. This particular tale involves the first Christmas she spent in her adopted country, and how it was inextricably linked with another very witty, clever immigrant, the late Bob Hope.