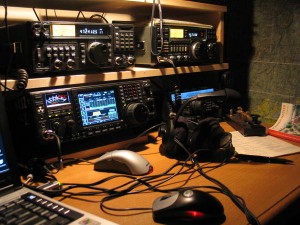 Contrary to popular belief, there are many people who  listen to AM radio for reasons that are not weather, traffic, or sports-related. The Santa Barbara Independent brings us news of a format change for a station that has been known as Progressive Talk Radio for several years. After a decision by the station's owners and management, it has transitioned to an all Spanish-language format. Considering the demographic shift that California has undergone, especially in extremely populous regions like Orange County  and Los Angeles County-where more than a quarter of terrestrial radio listeners tune into Spanish language broadcasts-this transition is not that surprising. In fact, the owners of this station would have been foolish not to cater to a market that continues to expand with no end in sight. 
The decision of 1490 to embrace Spanish programming, although not quite as ironic as the replacement of open-borders enthusiast and conservative activist Linda Chavez's radio show with a Spanish language show in her home market of Washington D.C., is indicative of a broader cultural shift that was ushered in by the federal government's encouragement of chain migration from non-English speaking countries. And while mass immigration advocates like to assert that these immigrants will have children who are fully assimilated into American culture-a culture that is increasingly bilingual out of necessity, not choice-the facts do not bear out these assertions. 
The truth is that the growth of Spanish language programming on radio, television, and the Internet, is not merely an aesthetic choice but the consequences of limited English proficiency, a problem that is getting worse, not better. Whether or not a particular radio station has a political format or an all-Spanish language format is irrelevant in the broader scheme of themes, but this seemingly trivial change does illustrate a much more troubling pattern. Namely, the gradual erosion of English comprehension in America as a result of mass immigration. And this development will lead to increased costs in education, especially remedial ESL classes, health care, and the distribution of other essential pubic services. 
One of the reasons the people who call into programs like the Lou Dobbs Show or Red Eye Radio are so incensed over the subjects of immigration and amnesty is because they recognize the consequences of ignoring these costs, which is exactly what California has been doing for so long. Let's hope that those voices are not eventually drowned out by programs aired in a language most of America does not speak.